April 28, 2018
I Had Postpartum PTSD. Here's How I Healed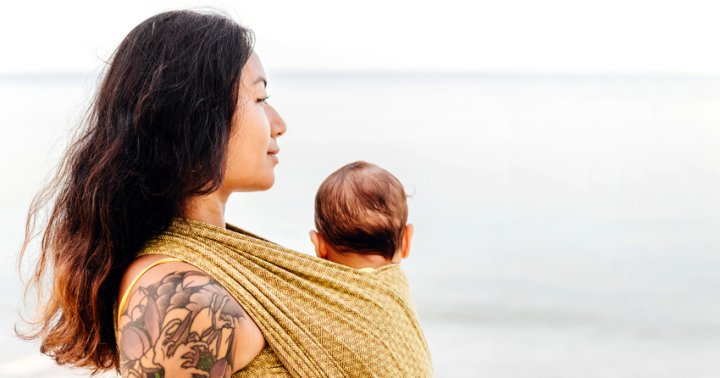 When I was diagnosed with PTSD, I was limping through life. Everyday activities that I'd done a thousand times—like getting out of bed or taking the dog for a walk—were suddenly excruciatingly difficult. Once, my brother came over and said I looked like I needed some fresh air and that we should go outside; I didn't want to admit to him how hard that sounded. It was shocking how quickly my life had fallen apart, and the cause was even more surprising.
The day I gave birth was supposed to be the happiest of my life, at least that's what I'd always been told. Everything pales in comparison to the joy a woman should feel when she becomes a mom, especially if, like me, she endured miscarriages and fertility treatments before finally giving birth, right? I was supposed to feel nothing but gratitude, but all I felt was panic and terror. Childbirth hadn't been blissful at all. It had traumatized me and left lasting psychological scars. Shortly after my daughter was born, my doctor diagnosed me with post-traumatic stress disorder (PTSD).
At the time, I felt like there was something terribly wrong with me, that I shouldn't be feeling this way. Women have been having babies for millennia, so who would be traumatized by something as ordinary as childbirth? As it turns out, quite a few people are. We just don't talk about it for fear of judgment. We're ashamed, so we pretend everything is fine. I know that's what I did until the suffering became unbearable and I had to seek medical care. Still, I felt bad about myself. Why did this happen to me? Was it because I wasn't strong enough? Was I defective? I know now that I was perfectly normal.
My daughter's birth was complicated, and we had both almost died in the process. PTSD can happen to anyone who has experienced a potentially life-threatening event, whether it's from a bombing or a baby. And think about it. Childbirth can be scary. We like to pretend that it's not a risk, but the sad fact is that it is. For centuries, birth was the leading cause of death for both women and their babies. Thanks to modern medicine, things have gotten significantly safer, of course, but there's still a chance that bad things can happen, even when we've done everything right. That goes for everything in life, not just having children. Sometimes there are simply factors that we can't control, and that's what happened in my case.
If you are suffering from PTSD after giving birth, which is possible even if everything went smoothly, there is no need to feel ashamed. You are normal, and you are still a good mother and a good person. Nothing is wrong with you, and you can heal, just like I did. The first step? Get treatment. See a doctor and follow your doctor's orders.
Mine put me on medication, which helped me dip my toes back into the pool of life. Once I began to feel more normal again, I also sought other, more sustainable avenues of healing like therapy, nutrition, yoga, and meditation because I wanted a lasting, well-rounded approach to getting better. For me, what worked best in helping to overcome my postpartum PTSD was nurturing my body, mind, and soul. Eventually, I became well enough for my doctor to wean me off all medications. After that, I was inspired to share my spiritual journey and the power of meditation with others, so I became a certified yoga instructor as well as a certified Chopra meditation instructor in primordial sound meditation, which is a healing practice that allows individuals to experience inner calm and deep relaxation.
If you are suffering from PTSD after childbirth or any other difficult experiences, again, it's important to receive medical help, but I'd like to offer a few of my easy bliss tools that can also help you feel calmer. They are meant to complement, not replace, traditional therapy and medications.
RequestThrottled: AWS Access Key ID: AKIAJBM62YGEVUDQUXFQ. You are submitting requests too quickly. Please retry your requests at a slower rate.